Debbie McNeill
17-September-2009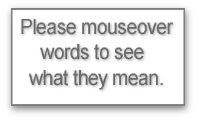 Transcript of Debbie McNeill introduction
So what are you going to do when you finish the research?
"Well I'm going back out to Trinidad in the summer, which will be nice. We're going to revisit some of the work on amphibian populations and we're also looking at doing population studies on the leatherback turtles. That'll be this summer, which I'm very much looking forward to.
I'm also interested in getting involved in marine survey work here in Scotland - so just looking at a few options with that just now."
You'll soon be Dr McNeill - what will you do with a PhD?
"That's a good question. I really enjoy the work I do. I love the public engagement and the Glasgow University Science Festival that I helped set up. At the same time I've always loved the research, so to do the PhD was the next obvious step.
"I'd love to be able to continue to do both - the research alongside the public engagement work. They do sit quite well together. So as I'm writing up the PhD I'll be exploring options."
So you'll be getting funding for research and for public engagement separately?
"That would be the ideal."